Z-Galva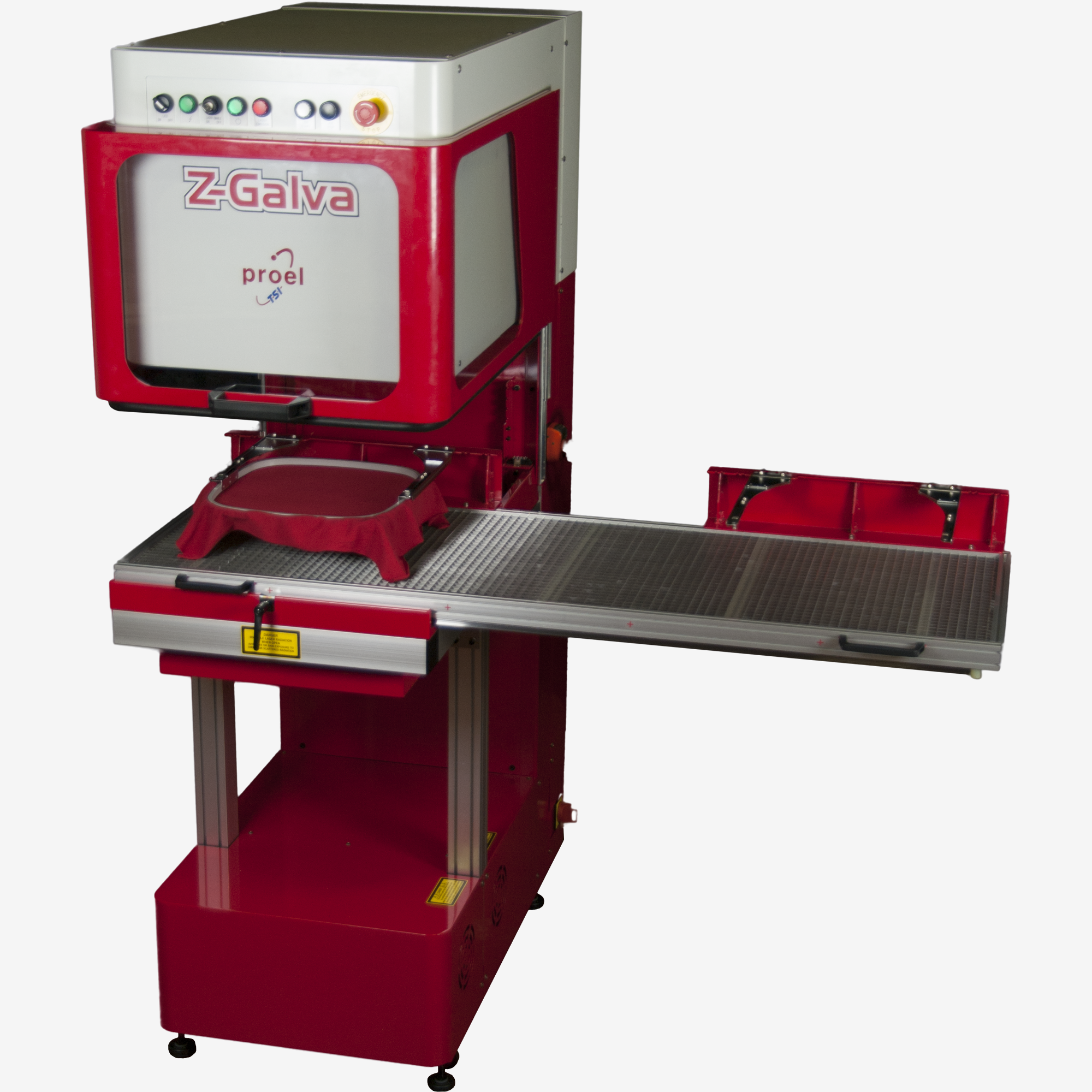 Z-Galva is part of Proel TSI 4th generation of stand-alone galvanometric machines. Drawing on decades of laser design experience as well as new advancements in market preferences the Z-Galva provides innovative production options with a high degree of accuracy, flexibility, and quality, all at a very affordable price. It is equipped with CO2 sealed CW - liquid or air cooled -Laser source and a galvanometric head that provides an extremely fast working speed (up to 10 m/s), thus achieving a high level of productivity.
The Z-Galva is able to work with many types of materials such as wood, paper, textiles, anodized aluminum,non-toxic polymers, plexiglass, leather, food, etc. and, for this reason, it is the ideal machine for many markets including Textile Market, Trophy Market, food and packaging market, and leather market. The distance between the work table and the laser emission point may be adjusted very easily, so the Z-Galva is able to produce several types of products regardless of their height or thickness. A wide range of accessories makes the Z-Galva machine extremely versatile allowing it to solve most of your production needs. 
| | |
| --- | --- |
| WHAT YOU CAN ACHIEVE | VIDEO GALLERY |
| [huge_it_slider_id="5"] | [huge_it_slider_id="4"] |
Technology

Galvo 2 Axis - Digital Interface - High Performances

Laser Application Field

Cutting / Engraving on non-metallic materials
Stand Alone, Integrated or In-Line machine

Dimensions (WxDxH)

594 x 1144 x 1834 mm

Weight
270 Kg (Max. 330 Kg)

Table working area (WxD)

500 x 500 mm

Cutting plane type

Anti-reflection alluminum grid with suction
Adjustable height position

Fumes Extraction

High Efficiency Turbine - External Unit 240Vac - Include
Sealed Area with adjustable hood

Laser power
CO2 Sealed 30W / 50W / 60W / 75W - Air Cooled

Laser Working Area (WxD)

300 x 300 mm - 400 x 400 mm
Options
Red Pointer - Easy and Fast material positioning on working area
Double Sliding Frame - Fast Load/Unload operation while processing material on other frame
Camera System - Precise cutting positioning on material already embroidered / woven / printed
Embroidery Machine Frames Attachment - Integrated process for Embroidery / Laser artworks (i.e. Appliques)
Software
FocusCut X - Included
User Interface
Personal computer / Tablet (Non Included) - Control Panel
Power Supply
Single Phase 220/240 Vac 50/60Hz
Absorbed Power Max
1,4 KVA with Laser 50W (Max 1,7 KVA)
The Manufacturer reserves the right to make modifications and improvements without prior warning
A dynamic red laser pointer trace any reference shape allowing the operator to position the material to be processed with necessary precision. The wide range of accessories makes Z-Galva machine so flexible to be able to solve most of production needs in Laser area.

RED POINTER

Z AXIS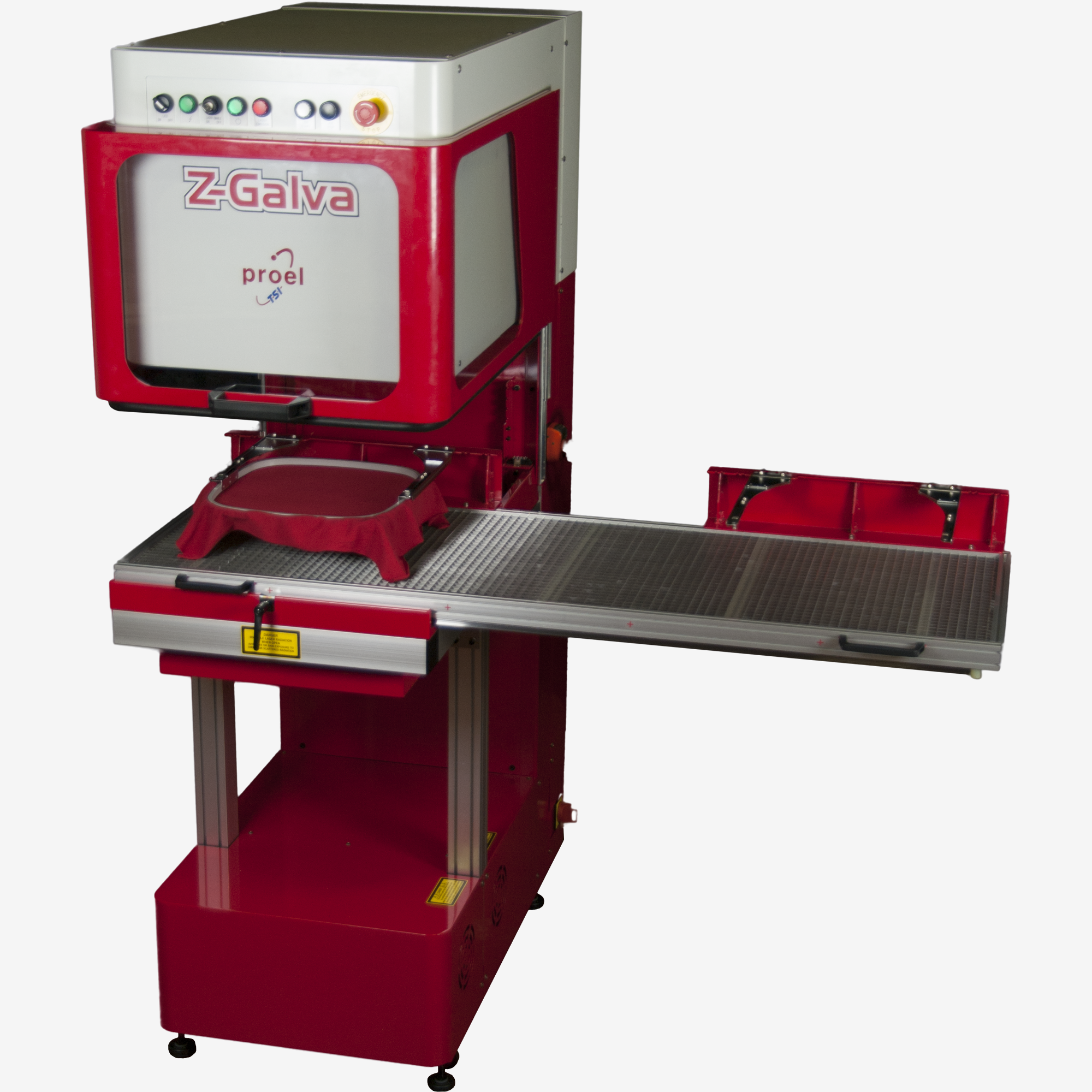 This option allows higher productivity saving time preparing the next frame while processing the first one. It is really versatile as it can be used like simple "double frame" system or if needed it can slide of specifics amounts to allow you processing artworks larger than the scanning head working area.
The Touch Screen Controller is an option that allow operator to schedule and manage multiple consecutive jobs as well as adjust most of lasing parameters directly on the Z-Galva machine without the need of having the managing computer, running FocusCut X software ,by the machine.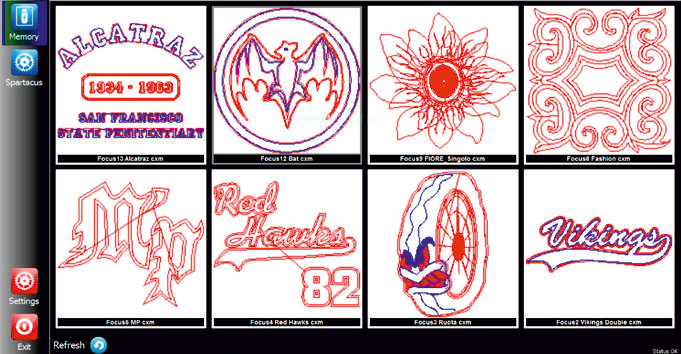 The VISION option adds to the Z-Galva machine an HIGH resolution camera system that along with the advanced software component gives the ability to automatically recognize single or multiple items on the cutting area and cut it out precisely regardless to the position and rotation.
This option allows the operator to fasten on the Z-Galva any kind of embroidery hoop, coming also from multiple embroidery machines, even of different brands. In this way, by mean of advanced software features developed in synergy with the machine, it is possible to easily achieve an extremely precise matching between the cut/engraving shapes and the embroidery, obtaining applique jobs with quality that typically belongs to much more complex and expensive equipment, such as the Laser Bridge
| | |
| --- | --- |
| A.I. Laser Functions is a set of software tools powered by Artificial Intelligence algorithms that automizes the necessary operations to convert any traditional vector or embroidery file in a ready-to-use laser job.The operator can easily add laser operations to embroidered lettering, generate the cutting information on imported vectors files, use traditional embroidery files to get complete applique jobs or create any type of sequencial marking like serial numbers or barcodes starting from information stored on an external data source. Everything with just a mouse click | |