E-Laser 2.0
Runs on every brand and model of Embroidery Machines
| | | |
| --- | --- | --- |
| | | |
|   |   |   |
| | | |
The Proel TSI laser machine E-Laser 2.0 works together with embroidery machine to create a very accurate and efficient system for fabric laser cutting and fabric laser engraving placed on the frame of the embroidery machine.
This laser system (patents pending solution) doesn't require electrical or mechanical changes on the embroidery machine.
The E-Laser 2.0 can be mounted on any existing or brand new embroidery machine.
The system makes an automatic control of laser power accordingly to the frame movement.
The laser cut is very accurate because the laser source is perpendicular to the working plane having a very small laser spot. With this small laser spot you can cut any materials and even thick materials.
The laser system is able to work on the entire working area of embroidery frame.
The E-Laser 2.0 can be used for any type of production, from the small embroidery business, or craftsman studio, to the large industry.
DEVICE for CUTTING on CAPS
This device has been implemented to have an off-set between laser and needle practically zero. In this way you can get a precise and optimal cut on all areas of the cap. By E-Laser and to the new device for caps your embroidery machine will be able to easily produce caps with highly precise applications or with distress look.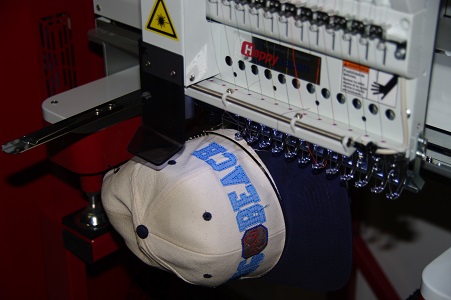 USABLE SOFTWARE for LASER CUTTING
Proel software for laser cutting FOCUSCUT X is the best program to manage laser cuts with E-Laser 1200 because the operator can use a lot of automatic tools for: auto-recognizing the embroidery edges, creating laser lettering and true type laser lettering, automatic creation of kiss cutting levels, etc. Possible also to manage the laser cuts with any client punching system.